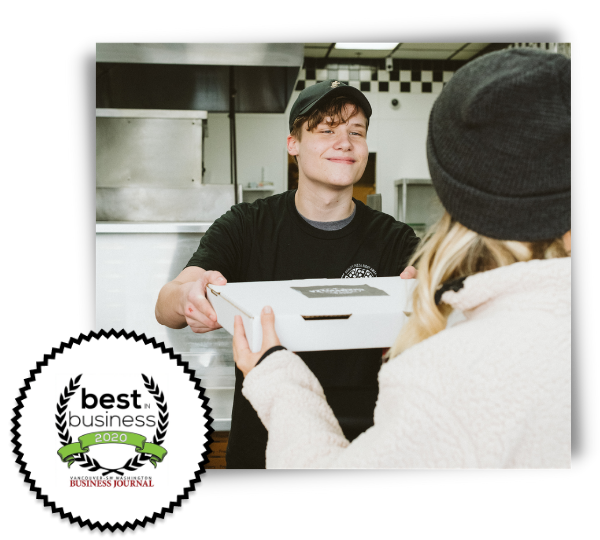 Champ Pizza is locally owned by a Vancouver native.
It was created with a mission to deliver quality pizza straight to you using only fresh, premium ingredients like parmesan in our hand tossed crust and whole milk buffalo mozzarella. As your neighbor, we always want to deliver the highest possible customer service. No cookie cutter answers or brush offs, we strive to make every experience more enjoyable than the last!
$7 Sub & 20 oz Soda Lunch Special
Pick any sub and a soda for $7 between 11 am & 2 pm
Free Med Cheese Pizza when you purchase a Meat Plater
Try our NEW meat Plater (1 lb ribs, 1 lb riblets & 12 Wings) & receive a free Med Cheese Pizza! Limited Time Offer! Must select the coupon at checkout online or request this deal from our team members.
$18.99 Large Triple Pepperoni
Large Triple Pepperoni Pizza
Medium 1 topping pizza and a 20 oz. drink.
$17.49 Large Two Toppings
You get a large, 2 topping pizza.
$35.99 Any 2 Large Pizzas, Any Toppings
Any 2 Large Specialty (or up to 3 Toppings) Pizzas
Spend $50 on any order and get $10 your next order!
Includes 1 large specialty pizza, 1 large salad and an order of our awesome cheesy breaksticks.
You get 2 extra large specialty pizzas, 12 piece chicken wings and an order of our cheesy sticks.
Click here to check out our Online, Monthly and Lunchtime specials!
Just ate the best pizza that I have ever had. I couldn't add one bit of advice to improve this perfect pizza. I loved it and it's the best ever!

I LOVE the cheesy bread! Really yummy. I'm a big fan of crust and the crust of the pizza 🍕 is bomb. 💣

Definitely will be coming back! Had the best pizza ever! Fresh, hot, and delicious gluten free crust. The meat lovers is phenomenal and the cheese pizza was perfect according to our 5-year old daughter! Thank you so much again for making our Saturday night family time fun! 5 stars!!!

Beat, local pizza in Vancouver!! Thank you for supporting the Fort Vancouver High School Athletes (cheerleaders) during their cheer camp. They were so excited to have pizza delivered to us! We had left overs and shared the generosity with some sister teams. ❤

Valerie Kay Marie

7/30/2021

Recently discovered this place & have not been dissatisfied yet! Great pizza!

Heather K. Mcgarity

3/23/2021

Loved the crust and the toppings were excellent. My wife loved the wings (I didn't eat them).

I tried Champ pizza today at the new Camas location. The pizza was great. Very good tasting dough with a great sauce and loved the crisp pepperoni. I also ordered the jalapeño and cheese bread sticks,again I loved the taste of the dough and they were just overall very tasty with just a little heat from the jalapeños. The staff was very friendly and knowledgeable about their product. I will definitely recommend Champ Pizza.
*Each $10 reward is valid for 60 days